Tasman Zorro
It is said that in the interest of uniformity, all the goats chosen for the main importation of Kikos to the US were white.  The story goes that this lasted only until they were in the quarantine yard awaiting entry, when one of the  does laid down and had a black kid, Tasman Zorro.  Whether the story is true or not  matters little, because the impact that this great sire has had on the breed is truly  impressive.  He is responsible for most of the color and much of the size found in today's Kikos.  He was sired by Goatex The Phantom (a name attributed to the unknown sire) and his mother was Bardon Bardelli.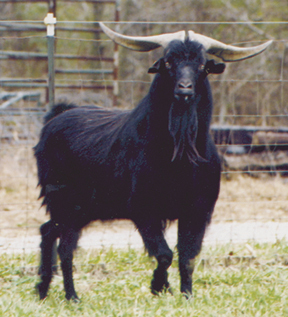 TAY Onyx 
Perhaps the best known son of Zorro was Onyx.  He was the result of crossing the big, black, Zorro on the Caston Creek doe, Miss Liberty, a daughter of Betula Hills Moneymaker.  His sons and daughters are characterized by extra large frames, lots of color, and plenty of attitude.  He is the sire of Iron Horse , and our Mystery's granddad.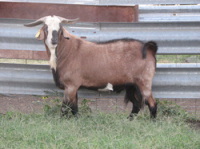 COO Iron Horse

Iron Horse is a buck with incredible genetic quality. His offspring gained a reputation among many kiko breeders. Bucklings out of Iron Horse are proven sires in the Kiko breed. Iron Horse passes  great size, and color .He sired multiple winners over the years at Oklahoma Forage Tests. He  is out of the best New Zealand bloodlines.  Iron Horse Passed away in 2014.  We have one of his daughters and many of his "grands" in our breeding herd.  Want size? Iron Horse weighed 320# in his prime!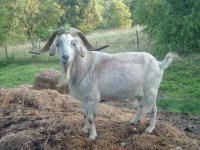 Betula Hill Moneymaker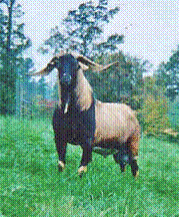 Sunboy Stanton 149 aka "Nick"
Probably left more of a legacy on the AKGA than any other goat.  He was a son of the great Moneymaker and the doe Seventrees Sandlewood.  This cross produced a number of the top bucks of the breed.  He was owned for years by Bill and Brenda Moore of Georgia, and near the end of his life by Sky and Debora Shivers of Oklahoma.  He died in February of 2007  His popularity was documented at the 2007 AKGA Showcase Sale where both the high selling purebred buck, and the high selling purebred doe were sired by him. 

Sunboy Stanton 149 (Nick) is the sire of the high selling goat in the 2008 AKGA Showcase Sale.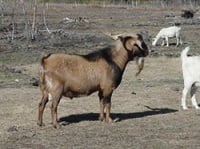 Sunboy 117 aka "Loverboy"
LOVERBOY passes along the best maternal traits in the Kiko breed. Probably the only Moneymaker son to challenge the popularity and impact of Nick.    Loverboy's mother was Seventrees Sandalwood, who was also Nick's grandmother.   We find that on tall framed does, Loverboy puts the meat and thickness on them to go with the frame.  Also  the sire of the 1st and 2nd highest selling goats at the 2009 Showcase Sale.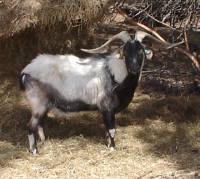 Sunboy Rotan aka "Magnum"
Another Moneymaker son, with Generator and Aristocrat on his dam's side.  Aristocrat line was known for exceptional parasite resilience, good muscular build, very hardy and somewhat wild.

Aristocrat daughters are known for exceptional maternal qualities.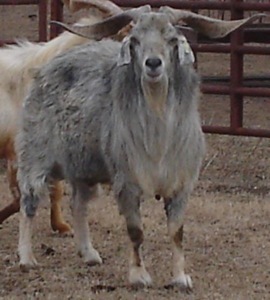 Blue's Son
Blue's Son was an exceptional sire that produced many proven offspring throughout the country.

His genetics have been proven at multiple forage tests. He sires very fast growing and well made kids that exhibit good parasite resilience and hardiness with tight black feet and dark skin. Black feet have been tested and proven to be the most resistant to foot rot. His offspring exhibit great feet and pass this quality on as well. A s a 50 % genetic son, his pedigree is heavily influenced by Moneymaker .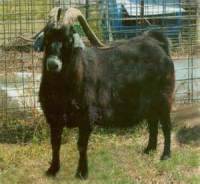 Terminator XX
The Terminator bloodline is the arguably the most parasite resistant, hardy Kiko bloodline. Kiko breeders like to keep replacement does from the Terminator bloodline for their great mothering ability. There weren't many goats registered out of the Terminator bloodline, but the ones that were are exceptionally good : Southwest Cisco and Terminator II. Cisco was a solid red buck that produced great bucks like ECR Rusty and BBM Dale. Terminator II was a black buck that produced great bucks like Wild Bill and Turbo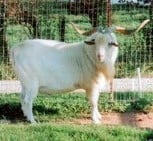 Goliath's Keeper
Arguably the best phenotypical example of what the Kiko breed should look like. What's even better is that most of his kids and grand-kids also have perfect confirmation.  Keeper is possibly the best son of the import Goatex Goliath, some think he is the best buck the breed has seen. Craig Adams states " Keeper was very impressive and probably one of the best-looking Kiko bucks I've seen in the breed. Keeper got his name because he was considered to be the best replacement for Goliath at Waysu Farms. Keeper was also out of Goatex Gesture, an import doe that Waysu Farms considered their best producer."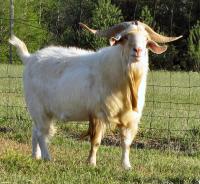 WSU Goldmines Heritage aka "Big Boy"
Goliath lines on both sides!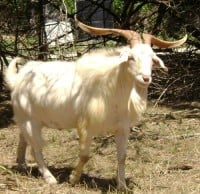 HKF Conan
Big Boy and  Harriet with her Goliath lines produced this outstanding buck.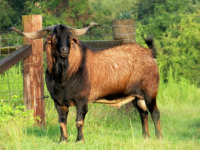 SKY Pistol Pete

Pete is member of the last kid crop of Sunboy Stanton 149 (Nick), and a chip off the ol' block.  His mother is a daughter of Loverboy and Tasman Black Beauty.  If you are looking for Moneymaker genetics for your herd you won't find it any better than Pistol Pete, the son and grandson of Moneymaker's two most popular sons.